About Us
Syamaddun Established in 1999 and it is 100% bumiputra owned company. We are registered with Kementerian Kewangan Malaysia & e-perolehan. Through our 14 years of experience this industry, Syamaddun is one of the expert in supplying to corporate and major government department and agency.
Product Offerings
Copier Paper
General Stationery
Printer & Consumables
Office Pantry
Office Furniture
Office Automation
Premium gift
Service & Values
We understand the importance of processing orders in a timely and accurate manner, and are dedicated to providing outstanding customer service. They also enjoy helping customers keep their cost down and exceed most customer expectation. We consider ourselves experienced in handling corporate and government request and expectation.
Our Commitment
We believe in providing customer a 5 star buying experience. We have put in a lot of focus on providing 5 star buying experience - product range, sufficient stock, timely delivery, after-sales support. We train our people well to deliver excellent customer service at all times.
The company's main objective is to be the one-stop supplier for Malaysia corporate client and Government department and agency. We will continue our commitment - proving best in price, service and quality to our valued customer. Do contact us today for an awesome 5 star customer buying experience.
---
Syamaddun Sdn. Bhd. (481901-A) didaftar dan diperbadankan di bawah akta syarikat 1965 pada 24 April 1999 dengan modal permulaan yang dibenarkan sebanyak RM 100,000.00 dan modal berbayar sebanyak RM 10,000.00.
Selaras dengan perkembangan perniagaan yang memberangsangkan, memasuki tahun baru 2006, Modal dibenarkan syarikat telah ditambah kepada RM 500,000.00. Modal berbayar syarikat pula sebanyak RM 200,000.00.
Syamaddun berdaftar dengan Kementerian Kewangan dan berstatus Kontraktor Pembekal Bumiputera.
Syamaddun Sdn. Bhd. mempunyai dua orang pengarah syarikat iaitu terdiri daripada Encik Burham bin Amat yang memegang saham sebanyak 30% dan Puan Kamsiah bt Ali memegang saham sebanyak 70%.
Encik Burham bin Amat bertindak sebagai Pengarah Operasi Syarikat manakala Puan Kamsiah bt Ali sebagai Pengarah Urusan Syarikat.
Produk & Perkhidmatan
Perniagaan yang dijalankan oleh Syamaddun Sdn. Bhd. adalah membekal pelbagai produk keperluan pejabat kepada Jabatan Kerajaan, Agensi Kerajaan dan Sektor Swasta.
Di antara produk yang kami bekalkan adalah seperti berikut :
Alatulis
Toner Komputer & Fotostat
Kertas A4 & Pelbagai Jenis Kertas
Alatan Komputer & Media
Mesin & Peralatan Pejabat
Cenderamata & Percetakan
Keperluan Pantri
Kami boleh membekalkan pelbagai jenis barangan keperluan pejabat kerana sememangnya visi syarikat kami untuk menjadi ONE STOP CENTRE untuk para pelangan kami. Dengan cara begini, pelangan tidak perlu membuang masa untuk menghubungi ramai pembekal sekiranya ingin membuat pembelian bagi pelbagai barang yang berbeza. Kami dapat memberikan harga yang sekurang-kurangnya serupa dengan pembekal lain kerana volume pembelian kami yang tinggi.
Walaupun kami mampu membekalkan pelbagai jenis barang, kami akan berterus-terang dengan pelanggan sekiranya tiada barang yang dapat kami bekalkan. Yang pastinya, kekuatan utama kami adalah kertas fotostat, toner dan alatulis manakala produk-produk lain harganya adalah sekurang-kurangnya serupa dengan pembekal lain.
---
MAKLUMAT PERHUBUNGAN SYARIKAT
Alamat Pejabat
:
Tingkat 1. No 18-1, Jln Pemaju U1/15,
Sec U1, Hicom Glenmarie,industrial park,
40150 Shah Alam , Selangor.
No. Telefon
:
03-5569 3818
No. Faks
:
03-5569 3319
Alamat Stor
:
sama seperti di atas
Nama Pegawai Untuk Dihubungi
:
Siti Salwa Bt Sulaiman (012-336 2803)
4.0 MAKLUMAT KEWANGAN
4.1 Maklumat Modal Saham
Modal Dibenar
:
RM 500,000.00
Modal Dibayar
:
RM 200,000.00
Pegangan Saham
:
(1) Puan Kamsiah bt Ali 70% = RM 140,000
(2) En Burham bin Amat 30% = RM 60,000
Modal Pusingan
:
RM 300,000.00
4.2 Maklumat Juru-Bank
Nama Bank
:
Malayan Banking Berhad
No. Akaun Semasa
:
512-222-316302
Alamat Bank
:
C8, C9 & C10, Jalan 15/4D, Subang Jaya, 47500
Petaling Jaya, Selangor
---
CARTA ORGANISASI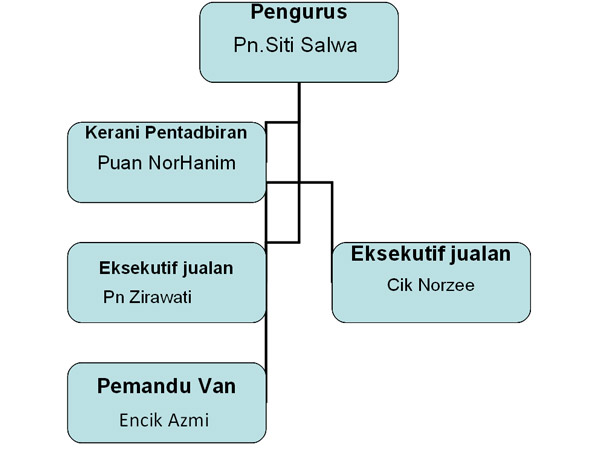 ---
CERTIFICATE